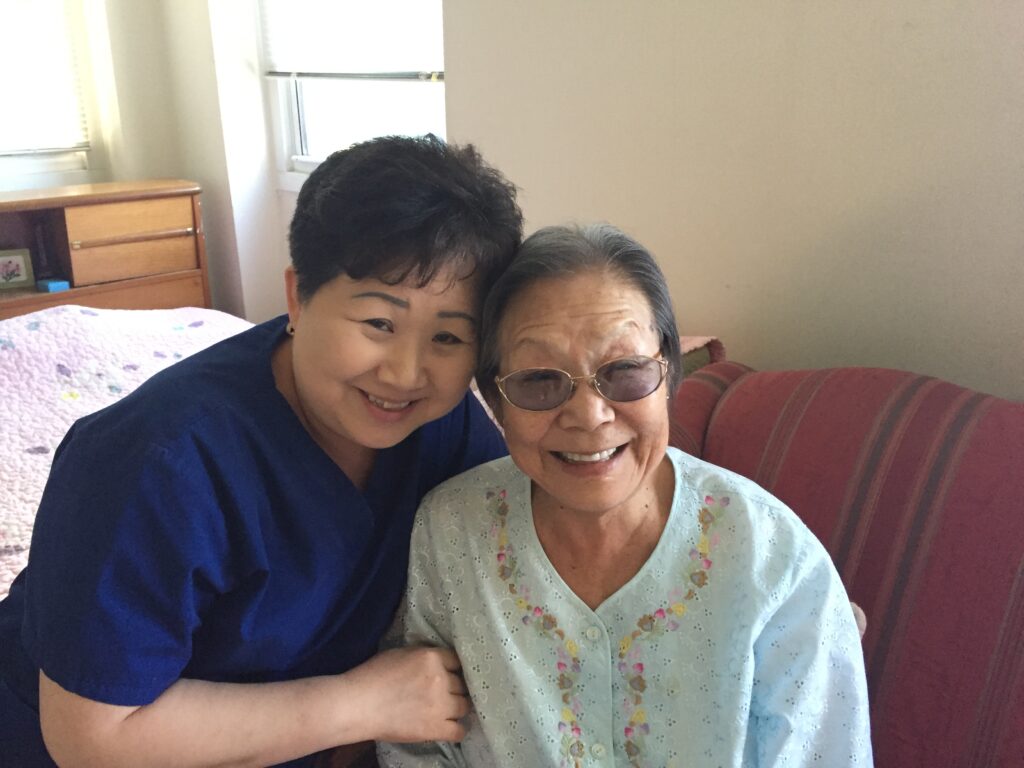 According to the AARP, more than 1 in 5 people in the country are caregivers today. That is more than 50 million caregivers, and the number has been rising steadily since at least 2015.
Mostly, those caregivers are taking care of friends and family. PHI, a research group that focuses on caregiving, estimates that family and friends provide around $470 billion worth of care. Without these caregivers, many seniors could not afford to stay in their homes or live in the community.
Despite the services they provide, most of these family caregivers are not paid for their work, even though this work can be difficult and time-consuming. There are complex reasons why family caregivers are not paid, but a big reason is that most of them are working unofficially rather than as fully employed professionals.
By becoming an official home health aide, you can get paid through Medicaid for the caregiving work you are already doing. Depending on the situation, you can get health benefits too. All that makes it easier for you to provide your loved one with the best care possible, and saves them money too.
The Costs of Unpaid Caregiving
In most cases, taking care of family can actually cost caregivers money.
Family caregivers spend an average of almost $7,000 a year on costs related to caregiving. That includes household expenses, medical bills, and travel costs. Almost 20 percent of family caregivers report high financial strain: most commonly, they have stopped saving and have taken on debt.
That $7,000 doesn't include time costs either. Caregiving can make it difficult to hold down another job. In that AARP report, more than half of the caregivers in the poll reported going to work late or leaving work early to accommodate caregiving. In addition, 10 percent of caregivers had to give up working entirely in order to care for a loved one.
Reducing the Cost of Care for Your Family
Long-term care can be expensive for the care recipient as well, and right now there are only two viable ways to pay for it: out-of-pocket or through Medicaid.
Paying out-of-pocket gets expensive quickly. The median price for long-term in-home care is around $50,000 a year, but the average American household has only saved about $9,000. In fact, more than half of Americans have not saved anything for old age.
These costs help explain why unpaid family caregiving is so common. It can be the only affordable option for most people. The care recipient will pay the caregiver through "grey market", under-the-table payments. These payments are usually in cash, tax-free, and cheaper than paying an official home health aide.
But in this case, care recipients are still paying for their own care out of their own savings. As a result, seniors and other people who need care are still losing money. And while caregivers are paid, it is much less than they could make through Medicaid.
Likewise, caregivers working in the grey market are much more likely to be victims of wage theft and other violations of labor law, since they do not have a home care agency to protect them.
Even at lower costs, care recipients paying out of pocket will usually impoverish themselves until they qualify for Medicaid. That is why of the $235 billion spent on long-term care in 2017, about 57 percent came from Medicaid. This has increased as states have gradually shifted Medicaid spending for long-term care to home and community-based solutions.
Enrolling Your Loved One in Medicaid
As a family caregiver in Pennsylvania, you can receive money from Medicaid to care for your loved one. Spouses and people with power-of-attorney are not eligible, but any other friend or family member is, including children caring for their parents.
Getting coverage under Medicaid for relatives can be complicated and time-consuming. You can make it simple by calling one of our home care coordinators. Help is available in multiple languages. Our coordinators, along with an on-site social worker and registered nurse, will complete an evaluation and walk you through every step of the process.
The first step is to see if your loved one is eligible for reimbursements for home care through the waiver program in Pennsylvania. The most common waiver program is probably Community HealthChoices (CHC). CHC is a state program that covers long-term services like home health aides and assistance with daily living for anyone who qualifies.
To qualify, a person has to earn less money than the monthly income limit (which is higher for CHC than regular Medicaid) and complete a physical exam that confirms they need help with daily tasks. As part of that exam, a physician must complete a referral form.
Based on the physician's evaluation, the state determines how many hours of care your relative needs. The state will then pay for those hours of care through Medicaid.
Start Early Before It Becomes a Crisis
It's important to keep in mind that the state has a long backlog of requests. As a result, this process can take up to 3 months. By that point, a person can go from needing a few hours of help during the week to requiring almost round-the-clock care.
By starting now, you can have a care plan in place for when you really need one. It's much simpler and faster to get approval for more care hours later than it is to get approval for care in the first place. So don't wait too long to apply.
Becoming a Paid Caregiver
Once your loved one is enrolled in a waiver program, the next step for you is to get hired by a home care agency like PASSi.
At that point, you will start receiving regular paychecks that will be covered by the Medicaid payments for your loved one. You'll be treated like any regular employee. You can even get any benefits the company offers, like health insurance, paid time off, or retirement benefits. But your only client (unless you want to take on more) will be your loved one.
To give the best care, you may want to consider some formal training too. If you choose to go through PASSi's HHA training class, you'll learn important caregiving techniques, and get a $0.50 pay increase as well.
You Deserve to Be Paid for Your Work
Being a caregiver, whether for family or for clients, is valuable work. You deserve to be compensated for it, and not just with a few dollars under-the-table. Instead, you deserve the same regular paychecks and full benefits as any other productive worker.
You can find help with PASSi for every step of the process, from enrolling your loved one in Medicaid, to learning how to provide quality care through our training courses.
Don't let the burden of providing unpaid care for family drain your financial or physical well-being. Take the first steps today to become a home health aide and get paid for caring for family.