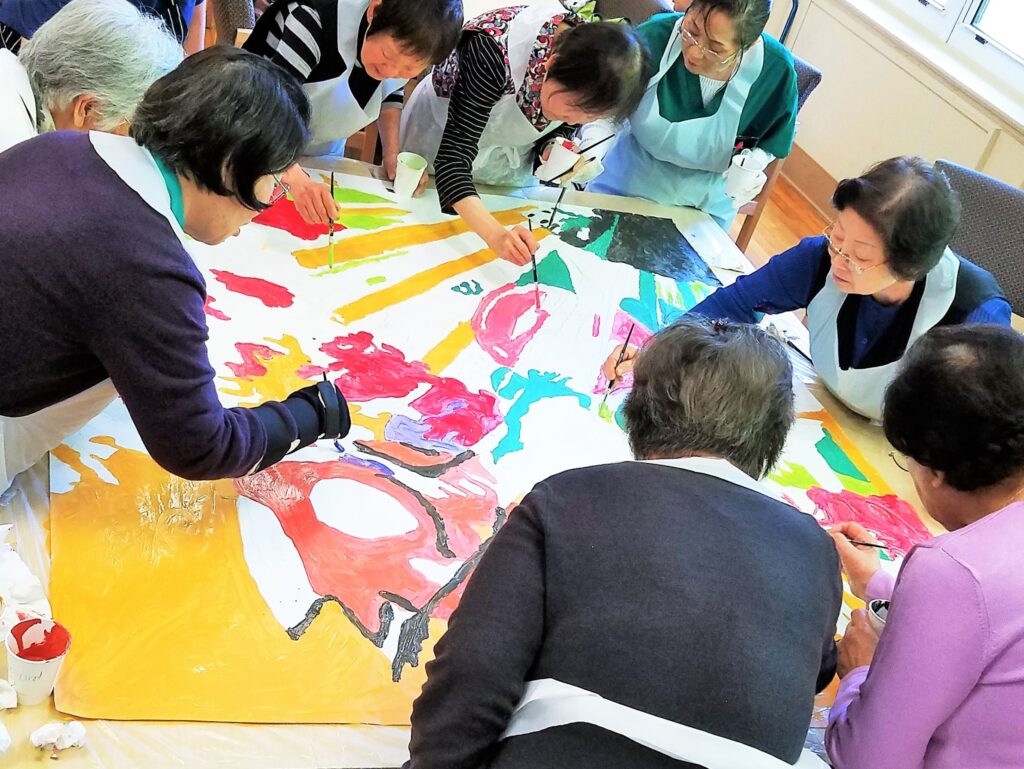 Think you're too old to learn to paint? Then you've probably never heard of Grandma Moses.
Born Anna Mary Robertson Moses, Grandma Moses didn't start painting seriously until she was 78 years old and arthritis forced her to give up embroidery.
Her career didn't take off until her 80s. After that, President Truman presented her with the Women's National Press Club Award for her art in 1949, she received two honorary doctorates, and she was on the cover of LIFE magazine when she turned 100. In 2006, one of her paintings sold for $1.2 million.
The point is, it's never too late to start expressing yourself creatively. You might not be the next Grandma Moses. But practicing art can help you stay more active, social, and healthier, no matter what art form you choose.
The Creative Aging Movement
Over the past decades, as a society we've started to look at seniors a bit differently. The old way of thinking emphasized a deficit model, which saw cognitive and physical decline as an inevitable part of aging.
The new way of thinking, the creative aging model, sees old age as a time of potential, vitality, and growth.
Seniors are more likely to experience some health problems, and may need some help with daily tasks. Still, many of the problems we associate with old age are the result of lifestyle or other behavioral factors. They are age-related (seniors are more likely to experience them) but not age-dependent (not all seniors will experience them).
In other words, there are things you can do to age more successfully and experience better mental and physical health. Aging successfully includes:
Avoiding disease and disease-related disability
Good mental and physical function
Staying active and engaged with life
Seniors have unique strengths that should be used, valued, and celebrated. They have a range of life experiences, recognize what is important, have fewer inhibitions, and can devote more time to hobbies or volunteer work.
One of the best ways for seniors to stay active and protect their mental health is through art programs. Making art—whether that means dancing, singing, painting, drawing, or anything else—is a key part of Creative Aging.
In fact, the United Nations recognizes engaging with art as a right that everyone has. In Article 27 of the Universal Declaration of Human Rights, they say that everyone has the right "to enjoy the arts". That includes the right to "exchange and develop cultural heritage and cultural expressions"—in other words, to make art!
Creative Seniors Are Healthier
But why is Creative Aging so important? How does making art help seniors?
The modern boom in art programs for seniors came out of a 2001 study. The National Endowment for the Arts and the Center on Aging, Health, and Humanities at George Washington University studied seniors in art programs for two years. The study followed 300 seniors between 65 and 103 years old. Half the seniors took weekly art classes, while the other half served as a control group.
Over the study, seniors in art classes:
Visited the doctor less often
Needed fewer medications,
Improved their mental health
Improved their physical health
Participated in more community activities
Had wider social circles
Recent studies of the benefits of senior art programs have also been overwhelmingly positive.
Why Are Senior Art Programs So Beneficial?
First, older adults have better physical and mental health when they feel a sense of control or mastery. We all feel better about ourselves and our lives when we're good at something important to us.
In weekly art programs, seniors master new skills in unfamiliar areas. They stick with art programs because they can make something beautiful. This skill-building promotes self-efficacy, or the belief you can succeed at a given task. This self-efficacy translates to other areas as well. Seniors are more inclined to try other new things after their initial artistic success.
Second, art programs make seniors more social. Seniors in art classes join a community of practitioners who all share a similar purpose and commitment. Decades of research show the danger of social isolation and loneliness, and how a strong social network can help you stay healthier.
Finally, art programs help seniors avoid a cognitive decline.
As we age, our brains tend to change. The size and weight of our brain decreases. The blood flow to the brain declines. The number of neurons in the brain also decreases. All these changes can lead to poor brain function.
But the emerging idea of neuroplasticity suggests the brain can change in healthy ways too, even as we age. Our brains have a lifelong ability to improve as we learn or challenge ourselves.
Basically, a challenge makes the brain grow stronger. This can build up a cognitive reserve that compensates for the declines of aging. Creating art is an excellent challenge that can result in more connections and better blood flow in the brain.
What Makes an Art Program Successful?
The most successful art programs help seniors reach those three goals:
Mastering a new skill
Creating more social connections
Challenging their brains
The best programs are not simple paint-alongs or sing-alongs.
They are multi-session group workshops designed specifically for older adults. Analyses of successful programs suggest that classes should:
Meet regularly
Have a clear sense of purpose,
Build sequentially from week to week,
Include hands-on participation
Be run by professional teaching artists.
The best programs usually finish with a celebration and exhibition of the class' work too. These celebrations provide participants with a goal to work toward, and help seniors take themselves seriously as artists. They can share their work with friends, family, and the wider community.
We kept these principles in mind when we created the art programs at Evergreen Center. In our music, dance, and visual art classes, members do hands-on work each week to build new skills, under the direction of our qualified instructors.
Pick the Activity That's Right for You
The important thing to remember is that it does not matter what creative outlet you pick. You can learn an instrument, paint, draw, sing, sculpt, write, or dance. Whatever you're interested in is fine, so long as you have a clear purpose and passion. If you challenge yourself each week, then you'll still enjoy the same benefits.
For seniors interested in staying healthy and active, joining Evergreen Center is a great place to start. We have multiple art classes every semester where you can learn new skills and meet new people.